Chapter 1
1912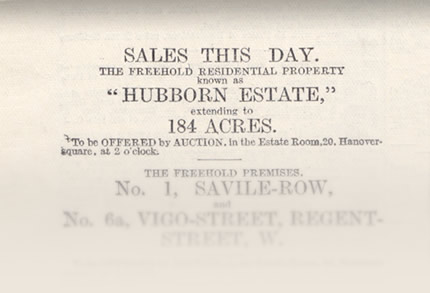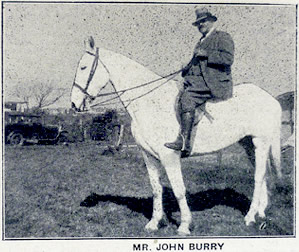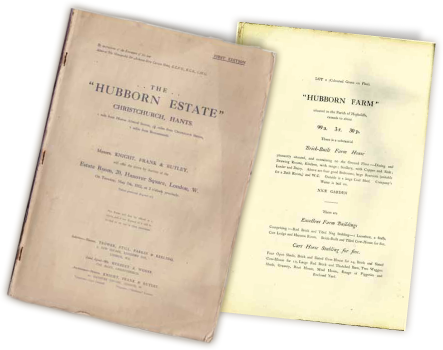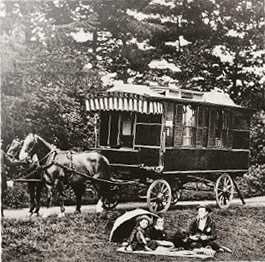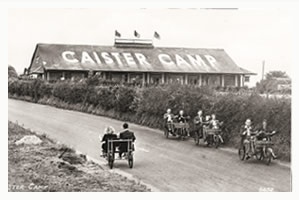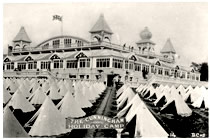 Hubborn
Estate
is bought
It all began at 2pm on Tuesday May 7th 1912...
The particulars were read out in the London auction room and bidding began. One man, John Burry, more than anyone else in the room wanted Hubborn Farm'.
He won the auction and the Hoburne Story was born. Hoburne Park now sits on part of the land bought at that auction.
The birth of caravanning
In 1912, the story of the caravan had already begun. In fact, the Caravan Club had been set up at a meeting of enthusiasts five years earlier.
The world's first leisure touring caravan 'The Wanderer' was on the road in 1885, built by the Bristol Wagon Works Company at a cost of £300.
Designed by Stables, the caravan was made from the best mahogany and lined with maple. Inside was a bookcase, musical instruments and pretty lace curtains. A self-styled 'Gentleman Gypsy'.
The first
holiday camp
The first holiday camp in England - Caister Holiday Camp - opened in 1906 in Norfolk. It was very basic with holidaymakers staying in tents and sharing camp chores.
Naish -
the next step
In 1920, John Burry bought Naish Farm in New Milton, just a few miles away from Hoburne Farm where he and his wife Sarah were living.
He had no plans to turn the farm into a holiday resort. But one by one, people applied for permission to put up temporary bungalows, and Naish Holiday Park was born.
A colourful past
Naish was once a favourite haunt for smugglers, lugging their barrels of contraband up from the sea's edge under the cover of darkness.
There are even tales of secret tunnels and quick sand pits to ensure all but the most knowledgable were kept away at night.
Trailer times
1919 saw the start of commercial trailer caravan manufacturing. Early producers and dealers spent a great deal of time travelling around England handing out leaflets in busy streets and inviting the public to take a look inside.
1920
1928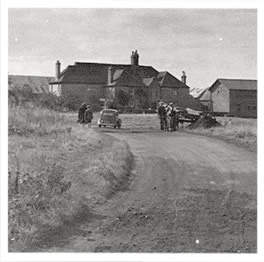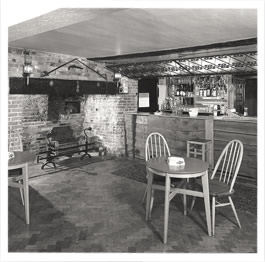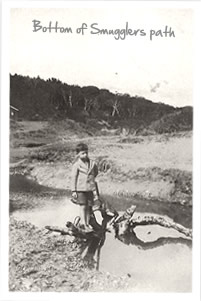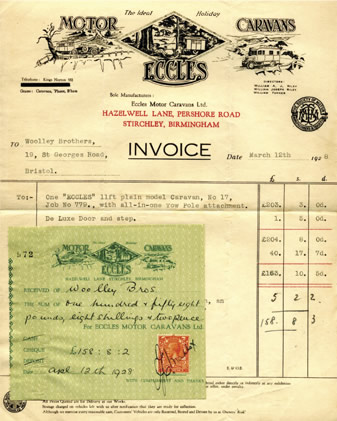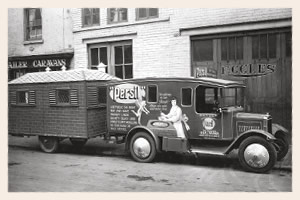 From farms to holiday parks
Up until the outbreak of World War Two in 1939, the majority of the land owned by John Burry was still farmed, although holiday homes gradually appeared around the edge of the fields. These homes were largely made from railway carriages and old buses and were used in part to house Southampton residents who had lost their homes in the bombings.
The Colourful Caravans
Quantities of paint used on the mid -1930s models were vast. Top of the range caravans could have up to 10 coats. Mattresses and stoves were the most important items bought in.
Memories
I actually started coming to naish in 1933 when I was four or five. My mum's family all had holiday homes here. I just remember long sunny summers on the beach. We used to near enough sleep on the beach! We moved there a couple of years later and I went to school in Highcliffe.
I used to help with the haymaking on the farm with the farm-hands Reuben and Harry. I think the ground rent was about £4 and 10 shillings a year and all hell was let loose when they put it up to £5!
Norman Imm, Maidenhead
1930
1933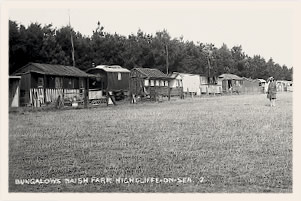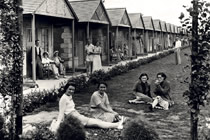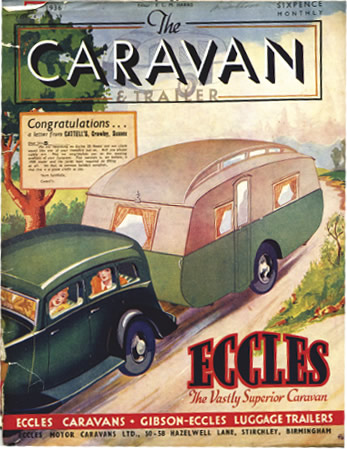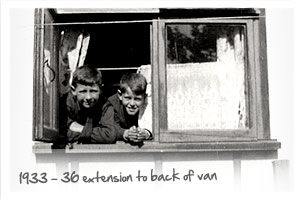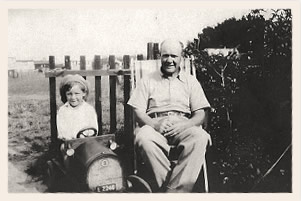 World War II
In 1939, a law was passed giving everyone one week's annual paid holiday. The year also brought the start of the Second World War, which halted the growth of leisure caravanning for some time.
Petrol rationing, which continued for several years after peace was declared, naturally took its toll. As people's homes were bombed the caravan took on a new role as a makeshift home; holiday camps were used as military bases.
Mines
move in
Naish Farm was closed during the war. The undercliff area was heavily mined given the risk of invasion by the Germans. A sketch from this time shows many areas of the farm near the cliff top were also mined.
It's holiday time
World War Two left a weary, leisure-starved public in its wake - ripe for the holiday park phenomenon to take hold.
Fred Pontin had been helping to set up hostels for construction workers during the war and used that experience to form a company to buy a disused camp at Brean Sands in 1946. By 1947 there were six Pontins and five Butlin's camps.
1940
1933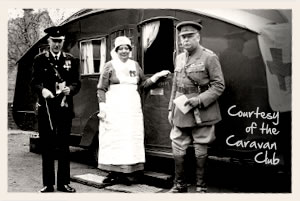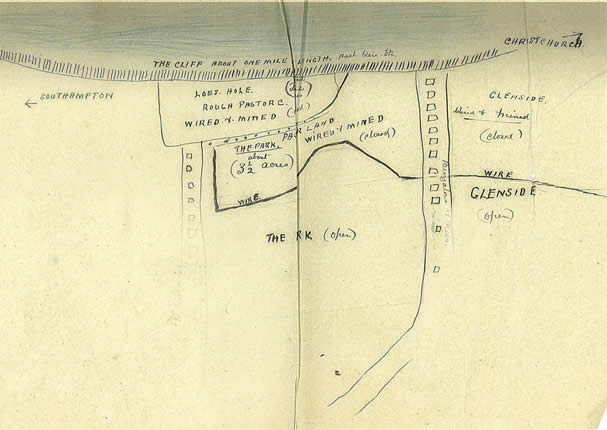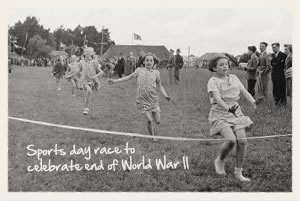 Bashley makes 3
Following John Burry's death, his son Herbert Alexander John Burry (Alec) had taken over the running of Hoburne and Naish farms. Like his father before him, an auction notice grabbed his attention and Hoburne Bashley was purchased.
Hoburne farms continue to grow
Meanwhile, Hoburne and Naish farms continued to grow into Holiday Parks. At Hoburne Farm, former farming fields were now home to touring caravans of varying shapes and sizes.
Memories
I stayed at naish Farm with my sister and parents three times in the 1950s. On two occasions we stayed in the same chalet in the corner of a large field that overlooked the sea. We had great holidays there, even though in those days there were no facilities like swimming pools and entertainment.
I believe there was a small shop and cafe but we made our own entertainment and enjoyed hiring the tricycles and riding around. it was great for my parents as they both worked very hard and for my sister and I as we lived in an upstairs flat. Some 60 years on, I am the only one left from this very happy family. But the memories of our happy holidays have never faded.
Christine Deedman, Bournemouth
1950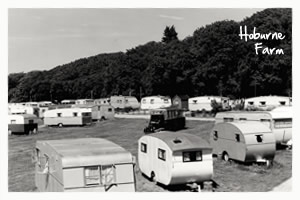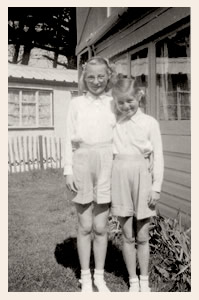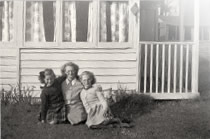 Buy book
The swinging sixties
John Burry had not followed in the farming footsteps of his father and grandfather before him. Instead, he followed a career in surveying and became a Fellow of the Royal Institution of Chartered Surveyors. As he took over the reins of the family business in 1964, the future couldn't have looked brighter. Some 4,900,000 caravan holidays were taken in 1965 - the caravan had come a long, long way.
The touring trends
Families were enjoying holidaying together. By the early 1960s there were around 100 registered holiday camps in the UK. The British Travel Association reported that one in seven holidays were in a caravan in the mid-1960s.
The average cost of holidays in Britain was £18 per person. A record number involved travel by car - 61 per cent - and the proportion of motoring holidays reached more than 70 per cent in the south west, Wales and the Midlands.
Memories
It was the 1960s and John was a rebel of the time. His mum and dad, Win and reg, ran the first shop at naish from the late 1950s and I would stay with them when we were courting. the shop was a wooden structure. John went on to serve in the army for 22 years and completed two tours of northern ireland during the troubles. incidentally, when I was a little girl my family lived at what is now Hoburne park in Christchurch and one of my jobs was to take the rent and rent card to the office.
On a couple of occasions I paid the money directly to John Burry.
Sue Allen, Hoburne Naish
1960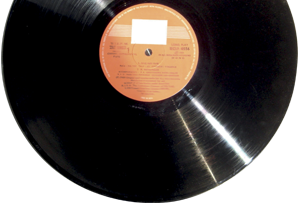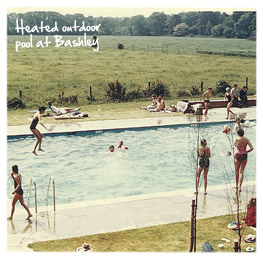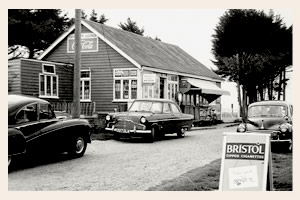 The


psychedelic


70s

Hoburne Limited was formed as a holding company in 1973 - and the seahourse, no synonymous with Hoburne appeared in the Hoburne Holidays logo for the first time.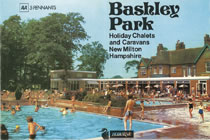 Grange Court joins the family
A 20-year-old council-run site in Devon (formerly Grange Court Holiday Centre now Hoburne Torbay) was bought in 1977.
Hoburne invested over £1 million in the Park soon after purchase, creating a now famous octagon-shaped restaurant.
And next...
The Cotswolds
In 1979, Hoburne secured a further site in the Cotswolds. Hoburne Cotswold is inside Britain's largest water park.
There are four lakes within the Park boundaries. Ducks are frequent visitors for any families enjoying breakfast outside on their decking and fishermen sit on the grassy banks waiting for the next catch.
1970
1977
1979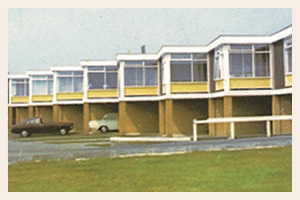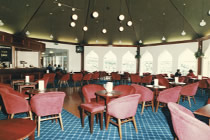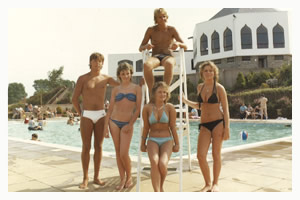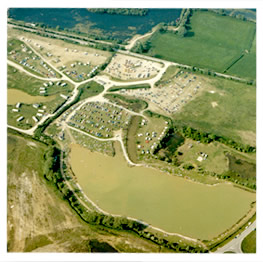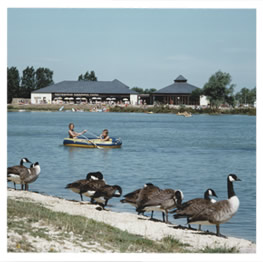 The

Booming 80s
The 1980s saw a further period of expansion and improvement as the demands and expectations of holidaymakers continued to rise. Hoburne's challenge, as ever, was the unpredictably of the British weather, but growing concerns over the unreliability of air and ferry travel provided all UK holiday destinations with the opportunity to try to persuade families to stay closer to home.
Blue Anchor
- perfect fit
Blue Anchor has long been a popular holiday destination - 80 years ago families were camping where Hoburne holiday homes stand today.
Doublebois
- A slice of
history
Doublebois Park, close to Liskeard and bordered by the River Fowey, comprised the magnificent Doublebois House and some 65 acres of rolling Cornish countryside.
Sammy's here
In the mid 1980s. Hoburne's hugely popular mascot Sammy Seahorse made his debut.
He has since changed from green to blue and been joined by his fun-loving friends Tommy Turtle and Larry Lobster.
1980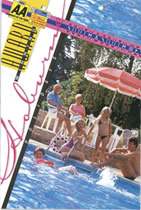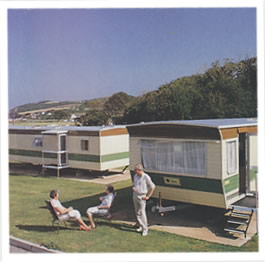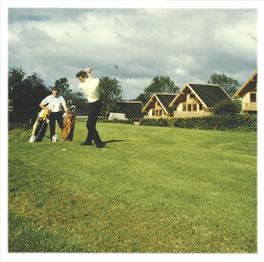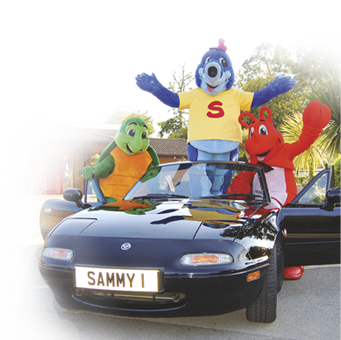 The

Nineties
and the awards go to...
The 1990s began with major developments to provide good quality indoor facilities, and by the end of the decade Hoburne had introduced lots more entertainment, the Sammy Seahorse Club had hugely grown in popularity and the Parks offered an increasing number of themed events.
Holiday
Home
boom
The 1990s saw a real boom in families buying holiday homes for their own use - often grandparents wanting to spend time with their grandchildren as well as on their own.
The 1990s -
Major milestones
Indoor pool and restaurant at Hoburne Naish
Leisure complex at Hoburne Bashley
A traditional games room at Hoburne Doublebois
Indoor leisure complex at Hoburne Park
Indoor leisure pool, staff accommodation and Reception area at Hoburne Blue Anchor.
Indoor pool at Hoburne Cotswold
Outdoor pools at Hoburne Bashley.
Indoor leisure complex at Hoburne Torbay.
1990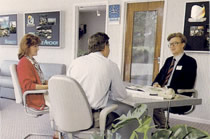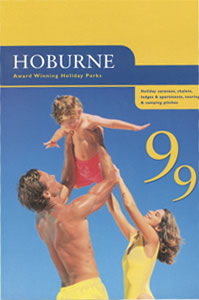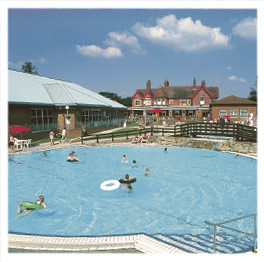 The

Noughties
The dawn of a new era. In May 2002, after 38 years as Hoburne's Chairman, John Burry took the decision to pass on the role to his daughter, Rosie Kennar.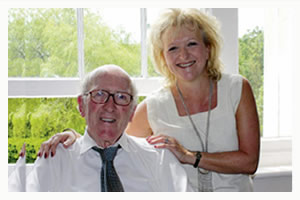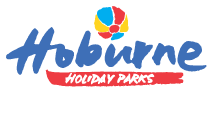 A new look...
Change copy to the following - This was also the decade of the new look, starting with a rebrand of all locations under the Hoburne name with the following key brand values: Integrity, qualtiy etc.
Millions
invested
There were new looks for all the clubhouses too, and Hoburne invested millions in providing the type of facilities its ever-discerning customers were looking for. The company employed interior designers to give the Hoburne look required, and so a huge new project began.
Nature trails
There were new looks for all the clubhouses too, and Hoburne invested millions in providing the type of facilities its ever-discerning customers were looking for. The company employed interior designers to give the Hoburne look required, and so a huge new project began.
2000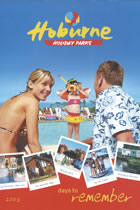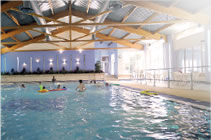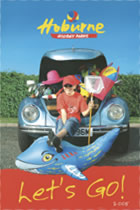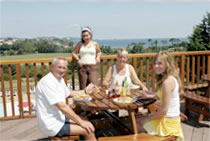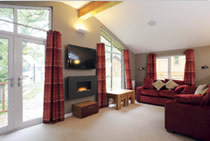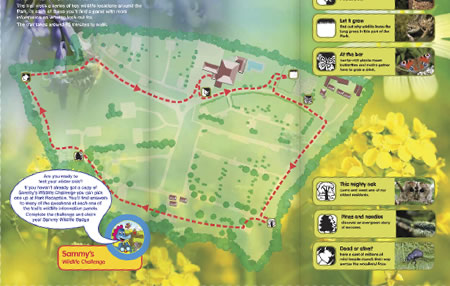 We're

100
May 7th 2012 see's Hoburne celebrate our 100th Birthday. We've come along way since John Burry purchased a farm 100 years, ago, and we can't wait to see what happens in the next 100 years.
Longstanding employees
A third of of our emplyees have been with the group for more than 10 years. Pete has racked up an impresive 44 years service, while Nigel started working for Hoburne at 16, more than 34 years ago.
More investments,
more awards
We've continued the theme of investment in the last couple of years, building new receptions, entertainment venues and plenty more besides. We were delighted to pick up the 2012 KMPG Company of the Year award in the Dorset business Awards, the county where the tale began.
Buy the book
To really understand the Hoburne story, why not buy our centenary book. Packed full of even more stories and old images, its really worth a read.
2012